Home → Cosmetic acupuncture
Cosmetic acupuncture of our clinic combines a whole body medical treatment.

Various physical symptoms such as a headache, stiff shoulders, lumbago, ecessive sensitivity to cold, and constipation, appear in the color, complexion and tension, etc. of the skin of your face, as a mirror in the surface of your body part.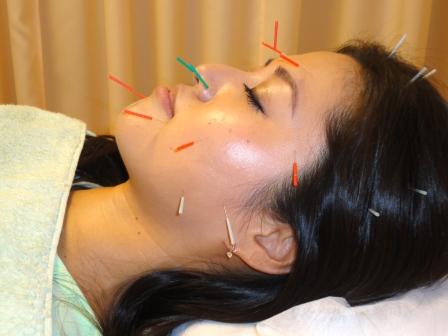 Edema, pimples, wrinkles, dark circles, dullness, etc. of your face can be said signs of physical disorder.

 Before the cosmetic acupuncture on your face, we treat your whole body with acupuncture, moxibustion and meridian Shiatsu massage in order to adjust the autonomic nerve system, the endocrine system such as hormone, the immunological system such as the lymph.

 By treating the regions of your face and head where acupuncture points gather, tensions of the face are eased, the face tightens and the eyes feel refreshed.

 There are also good effects in asthenopia and dry eyes caused by the stress from a computer work etc., stiffness of the shoulders, headache, temporomandibular
 disorder, sinus problem, hay fever, etc..

 The relaxed effect is so high that the treatment of regions on the face and head is recommended for those suffering from insomnia and depression caused by
 autonomic-nerves malfunction, etc..

 Furthermore, we treat carefully to the locations where you are worried about, such as nasolabial fold lines, slack of your cheeks, jaw, angles of mouth and eyelids, and dark circles, skin flecks, pimples, etc..
 
 We use many needles in order to enhance beauty care effects.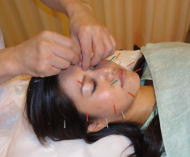 You can feel the effects of the treatment, such as nasolabial fold lines and slack of the cheeks, you are worried about, on the spot since we take a picture of the state of your face before and after the treatment .
(We will take pictures of your face before and after the treatment for those who are interested in the pictures).

Since skin of face part is thin and sensitive, we use the highest grade disposable cosmetic acupuncture needles made in Japan for cosmetic acupuncture
 

 Before and after the treatment
 (Example : 90 min. course)

   Before           After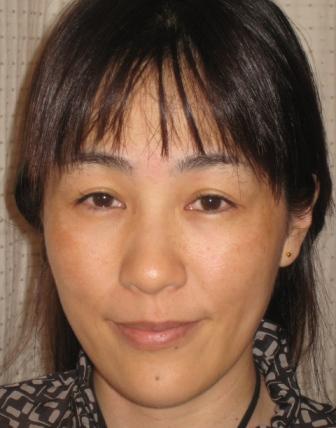 Effect
 1.The whole face is tightened (the face
    becomes smaller);
 2.The cheeks, chin and corners of the
    mouth are lifted up, etc..


---